iPhone Repair in Bayside, WI
iPhone Repair Service for Broken Screens, Bad Batteries & More
Dropped your iPhone in the pool? Can't get the battery to charge? Unable to read anything on the screen because that little crack has turned into a mosaic of cracks? No matter what calamity has befallen your iPhone, Smart Tech Mobile Phone Repair is here to save the day. You don't even have to drive anywhere to get your phone fixed-- our service team will come to you, anywhere in Bayside or the greater Milwaukee area, at no extra charge.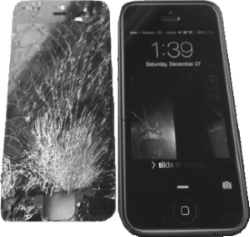 Yep, this is one we fixed!
Best iPhone Repair Service in Bayside
Don't scoff. It's true! Unlike some outfits, Smart Tech Mobile Phone Repair charges a flat fee for a variety of iPhone repairs (see the links below). There are no bogus "convenience charges" or other shenanigans to jack up the price on our services. What's more, if you actually find some other iPhone repair service advertising a lower price than ours, we'll match it. Plus, we back all our work with a 100% satisfaction guarantee.
Smart Tech iPhone Repair Services:
What are you waiting for? Let's get your iPhone fixed. In most cases, repairs can be done in 20 minutes. Schedule a repair now!