iPhone Repair in Chenequa, WI
iPhone Repair Service for Broken Screens, Bad Batteries & More
Whether you've just joined the "I broke my iPhone" club, or your iPhone is malfunctioning on its own, Smart Tech Mobile Phone Repair is pleased to make your acquaintance. We're a mobile phone repair service--meaning, we come to you. Wherever you are in the Village of Chenequa, we can have a technician meet you and repair your iPhoner. In most cases, repairs can be done in 20 minutes or less.
What kind of repairs does Smart Tech do? All kinds: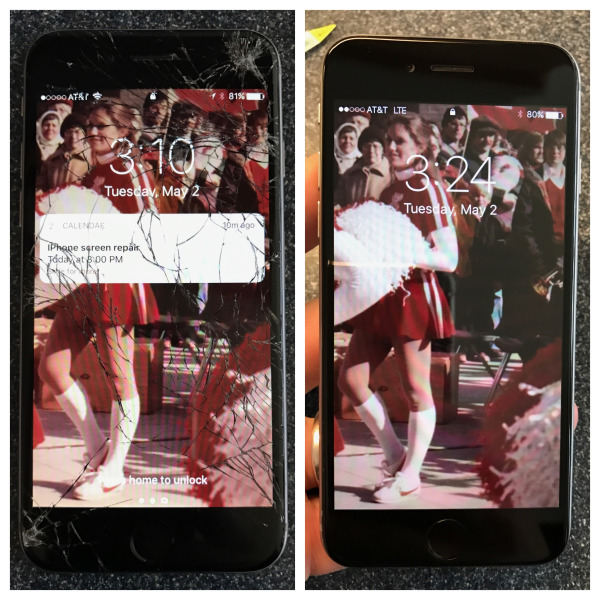 Before and After photo of iPhone screen replacement by Smart Tech.
Best iPhone Repair Service in Chenequa
OK, we're not actually in Chenequa, but we'll be there when you need us. Seriously,
whenever
you need us. 5:30am before you head in to work? No problem. 2am when you're closing down the bar? We'll be there. 7pm on the night before Christmas? See you then! Our mobile technicians are on duty 24/7 all year 'round. Just call us to set up a time, or use our online scheduler to
schedule your phone repair.
All our repairs have a flat rate price, so you'll never get hit with a "well, once we got in there and took a look we found you're going to need a $300 thingamabob to get this working again" story. Plus, we back all our work with a 100% money back satisfaction guarantee. And if you find someone else offering the same repair for less, we'll gladly match their price.
What are you waiting for? Don't you want to get your iPhone fixed ASAP?