iPhone Repair in Eagle, WI
We come to you. Wherever you want to meet in Eagle, WI or the surrounding areas, a tech will come to you and fix your phone with lightning speed. At a coffee shop, the grocery store, your workplace, Eagle Village Park — anywhere. 24-hours a day.
Smart Tech Replaces Cracked iPhone Screens, Dead Batteries, Broken Cameras & More

When something breaks on an iPhone, or a battery won't recharge, the first thought is usually something along the lines of "Aw #&*!, now I need to get a new phone!" Actually, though, in most cases an iPhone can be repaired for far, far less--and the repair doesn't have to be done by Apple. Smart Tech Mobile Phone Repair handles all the most common iPhone repairs, including: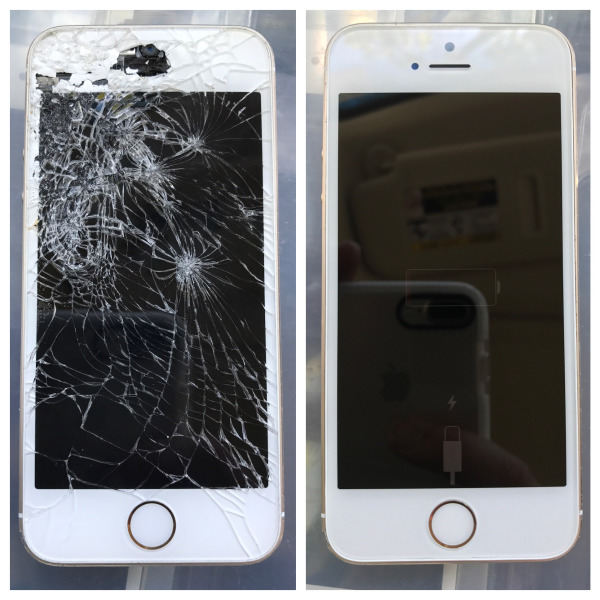 Smart Tech replaced the cracked screen and case on this iPhone
Smart Tech Is Your Best Choice for iPhone Repair in Eagle
Just to be clear, we're not actually located in Eagle. Like super heroes who travel everywhere to save people in trouble, our mobile phone repair technicians go everywhere in southeast Wisconsin. We're on call 24/7, every day of the year. Need your phone repaired at 3am Christmas Eve? We'll be there. And, in most cases, we'll have your phone repaired in 20 minutes or less.
Unlike some phone repair services, Smart Tech has a flat rate for each repair service-- so there are no surprises. You know from the outset what it's going to cost to get your phone fixed. What's more, we'll price match anyone who advertises a lower price. Plus, we back our work with a 100% satisfaction money back guarantee.